Ho Chi Minh City, October 21, 2019, ISUZU VIETNAM CO., LTD. officially became the first truck manufacturer to launch a special version for each region in Vietnam by launching QKR North Limited for the Northern market.
*From the leading truck manufacturer, to the first brand to launch a special version for each region
For each market will have very different requirements depending on customer's demand, operating conditions, geographical and economic characteristics … Understanding that, we Isuzu Vietnam would like to develope new products with specific characteristics to meet and adapt for each region. Therefore, on October 21, 2019, Isuzu Vietnam has officially become the first truck manufacturer to have a regional special edition in Vietnam with launch the QKR North Limited version exclusively for the North.
QKR North Limited is the result from a long-term study to innovative research and understanding the demands in the Northern market. Therefore, the product has a variety of payloads, a unique exterior design and additional facilities to enhance the user experience with the following impressive changes:
*Luxurious exterior design with unique SAHARA BEIGE sand color:
New outside color of Cabin is bronze – gold color (impressive Sahara Beige sand). This paint color has additional Beige Metallic glossy exterior, easy to clean and dirt-proof. Driver can freely run long distances without fear of dirt on his "partner".
Gold Isuzu logo emblem can express the real level.
Red special leaf springs, can make highlight for truck.
The silver disc wheel is so strong and the word "North Limited" decal make the difference.
*Innovation changings come from a great understanding of the user experience:
Isuzu QKR North Limited version adds LED daytime running lights to increase safety features when Northern weather conditions are often foggy during the day.
Isuzu QKR North Limited seats are covered with high quality industrial leather that is waterproof, easy to clean and dust free. In addition, this material can help drivers more comfortable sitting throughout the journey of transportation.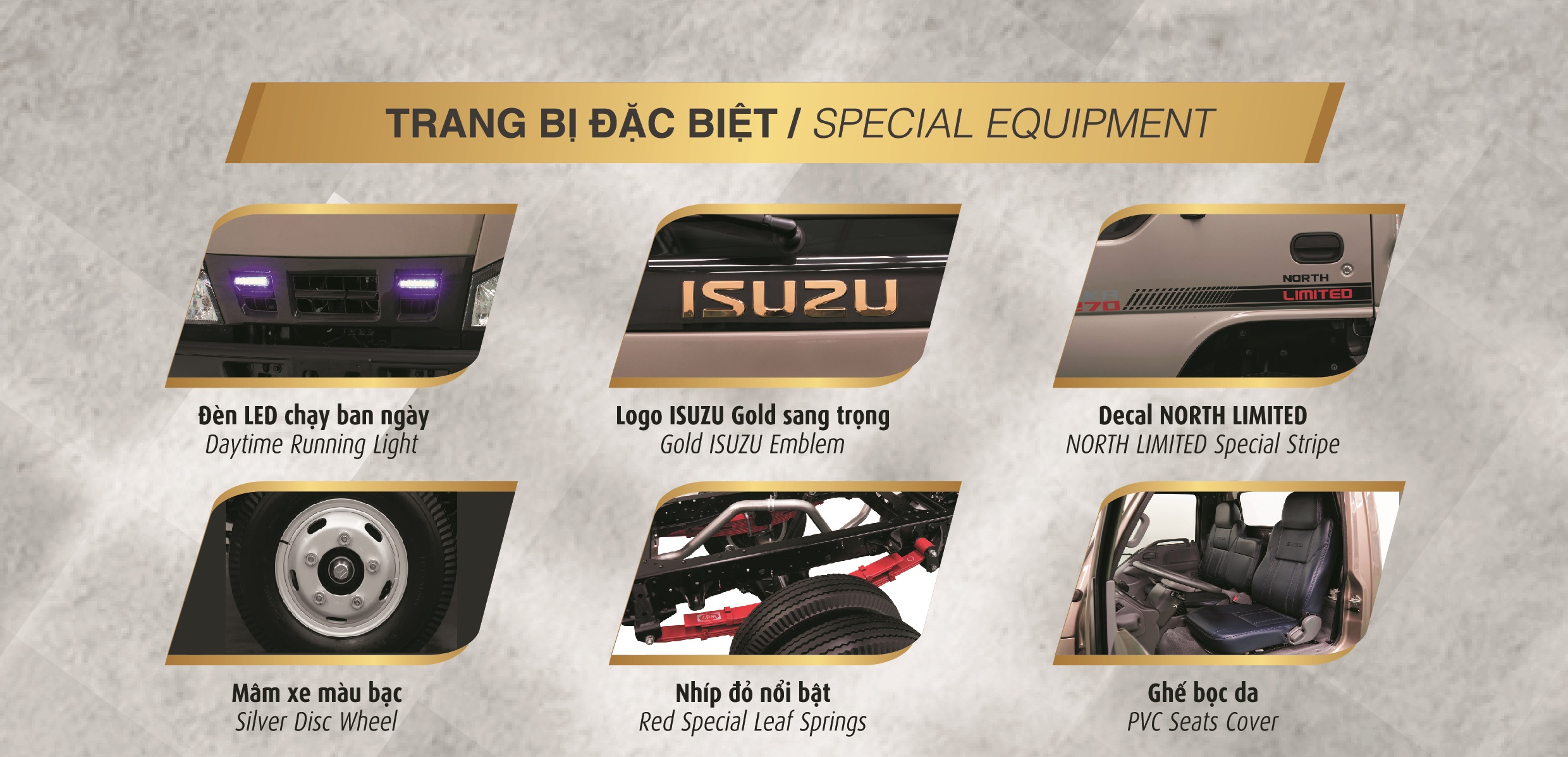 QKR North Limited has 4 models are QKR77FE4A, QKR77FE4, QKR77HE4A and QKR77HE4 with GVW of 3.490kg, 4.990kg, 5.000kg to 5.500kg to meet the diverse demands of driver. In addition, Isuzu QKR North Limited also inherits the superiority of durability, engine power, fuel efficiency when inheriting the Common Rail electronic fuel injection engine that uses Blue Power technology to meet emission standards Euro 4. Therefore, the special edition QKR North Limited not only contributes to the diversification of Isuzu's products but also provides a reasonable choice with customers in the North market.
Refer to chassis specifications with the following table:
MASS
QKR77FE4A
QKR77FE4
QKR77HE4A
QKR77HE4
Gross vehicle mass
Kg
3490
5000
4990
5500
Kerb mass
Kg
1885
1895
Overall dimension  (OAL x OW x OH)
mm
5090 x 1860 x 2200
5830 x 1860 x 2200
Wheel base
mm
2750
3360
Mr. Daisuke Yamada – Deputy General Director of Isuzu Vietnam shared: "The light truck segment in Vietnam has been vibrant and growing rapidly in recent years. With strengths gathered from more than 100 years of Isuzu worldwide and understanding the needs of Vietnamese customers over the past 20 years, QKR North Limited is expected to conquer the increasing demands of local people, especially provinces in the North. We believe that Isuzu QKR North Limited will be well accepted by the Northern market as it has been accepted like its "predecessor" Isuzu QKR ".
Established on Oct 19th, 1995, Isuzu Viet Nam Co., Ltd (IVC) is a Japan-Vietnam joint venture automotive company specialized in assembling & distributing commercial vehicles & light commercial vehicles includes light duty trucks, medium duty trucks, heavy duty trucks, bus chassis as well as pick-up and SUV.
In 2008, in Viet Nam, Isuzu created special remark to be was the first brand to apply Common Rail technology to meet Euro 2 emission standards which increase operational efficiency & reduce environmental pollution.
In 2018, Isuzu Viet Nam officially launched a new generation of trucks using Common Rail equipped with an improved Common Rail engine named Blue Power, once again became a pioneer in satisfying Euro 4 emission standards required by the Government.
For further information of specifications – QKR North Limited , refer : https://isuzuanviet.com.vn/xetai-list/qkr/